Immediately I began to notice a tell rose fragrance at certain locations. I started to look for the source. I checked all kinds of places. I smelled the essence bottle, I sniffed over by my orchids on the kitchen window sill, I pulled my top out and sniffed down it.
No order of the rose there. Yet, it was there and very strong. Then I knew. It was coming from inside of me. Not the outside, like sweat of garlic order. But really just inside of me. It was the essence in my nose, brain, memory and my heart. I could feel it. Grace. I have done a watercolor with Evelyn. There is a melancholy quality about it. Rich, deep and somewhat saddened, like bitter-sweet chocolate. Not a negative think, just present. Something to be acknowledged. It adds to its definitive beauty, like a blue moon. I have
found Evelyn to be primarily about grace, quiet strength and acceptance. It teaches you discrimination where excesses are reviewed in a very calm, undisturbed but gentle way. It gives you the opportunity to gather yourself together. It is somewhat like Shamanism where you call yourself back. Not only in today's incarnation but across the past incarnations by way of all kinds of mental, emotional, spiritualside trips, tunnels and interesting pathways. But always with a graceful acceptance. The color dulls out with Evelyn. It is not florescent coloring like some other essences. The orient, jewel colors came into mind, like an old oriental carpet. Nothing else would do, but ageless, timeless colors that lend comfort to the process.
Purification in love... this essence is as solid as a rock. I have never painted with a gemmie before and barely have used them because I do not feel mature enough at 51 years old to handle their power but I loved the power of Charoite. Simple, to the point, no bull, this is what it is and here is the detachment you need to deal with it. I supported Charoite internally with Holly as I painted with Charoite because I felt I needed to be able to let go of the emotional stuff the reality of Charoite brought up.
This essence is a joy to paint with. It is responsive and immediate. It does not alter the colors but enhances them to their highest beauty. It is cooperative with the process and blends beautifully, giving each pigment hue its own space and place in harmony with each other. There is little or no tension even when using complimentary colors like blue
and orange together. Wahoo, it just shines and shimmers. This painting just fell together, unlike the Evelyn essence which was a melody of opposing tensions. It heightened my reality and awareness to a place where I could be more receptive and open. I was a little daring with this painting and possibly a little reckless and careless but it came together beautifully by giving it its own head.
Tiffany is the first rose essence that has not dulled out or over saturated the watercolor paper. Her color is about as true as any of the essences I have worked with so far. She allows you complete control and is very disciplined in her application. Because of the depiction I choose to use Tiffany for, I had to paint on a vertical plan, like any oil painter. The problem with that is water runs. This is why watercolorists work on a flat plan. Tiffany allowed this vertical work
with no problems. The level on concentration and focus was more intense than any thing I had ever experienced. Some times I can get away with a little daydreaming while working a painting but not with Tiffany on the scene. She wanted your full, complete, and dedicated concentration. It wore me out but I was extremely satisfied with the results of the effort. Tiffany seemed to open psychic forces that allowed messages to come through. I would be asking myself about what I should do about a certain problem I was having on the painting and I would receive answers from outside of myself, psychic answers. Be it angels, guides, grandmothers or grandfathers the answers to my questions were there for me almost as if in a conversation. The fact that I was painting, pleine aire, at The Lakes, which is Morris Grave's Private Studio on his estate that he left as a Foundation in 2000 for artist, may have had something to do with it. I don't know. I only know it was there for me and I consider this to be the culmination of all I have learned about watercolor work to date. The Panels, as I call them, are my masterpiece work.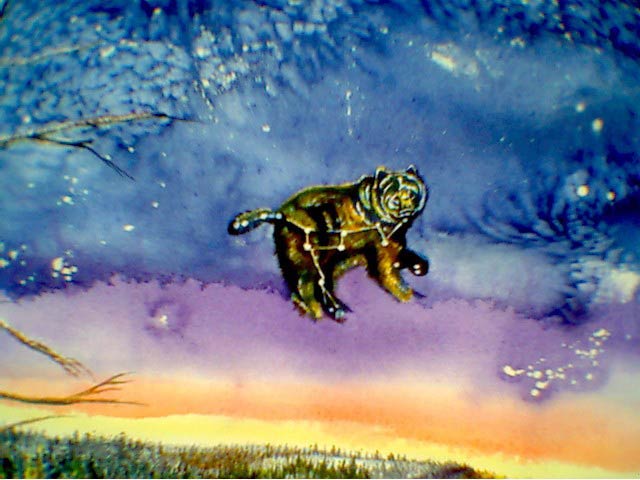 One expects to be betrayed by a lover or a friend, but when a child betrays you, it really hurts. Maybe you deserved it, maybe you didn't. Just trying to reconcile it is a killer. My heart is broken and can not be mended. Mothers and Sons..Damn the perfect Universe that brought me Y'ves Piaget rose essence. It is about releasing past grievances and grief. It is the ClearingHouse of that you wish to deny.
Bears!!! Why did I keep on having actual Bear sightings and encounters? Sure I live in bear country but I never saw four different bears in 30 days or heard about bear encounters from so many others. I was on the trail again for surely,
This was a sign of the Divine. It was time to connect the dot.
I went to the Trinity Tribal Stomp in isolated Hayfork, Ca. I felt, instinctually, that in order to solve the mystery of the bears, I needed mountains, sunsets and three days of music, dancing and more dancing. This festival had it all.
The first night sunset was okay but did not produce any connections for me. As I watched the sky darken on the second night I realized that it was not the sunset but the stars I was interested in. I saw the Big Dipper and felt a truth. As soon as I got home I looked up Ursa Major. It was the Great Mother BEAR!!
Ursa Major includes the Big Dipper; the only constellation I can recognize in the sky as it is the best-know group of stars. When Zeus fell in love with Callisto, his jealous wife changed Callisto into a bear. Ursa Minor is the little bear. Callisto and Zeus had a son, whom Zeus changed into a bear and put in the sky. Ursa Minor is also called the Little Dipper. It includes Polaris, the North Star.
Well, there could be no doubt now. I had to paint this image and deal with my betrayed mommy stuff. All those stars are my 1,000 tears that fell on the paper as I worked. I have to wash away the grief and sorrow and move ahead in my relationship with my son. Seeing my love for my son in long strides instead of short terms. After all, he is just a huMAN and I will forever and always be his mom.